Meet The Teachers
Meet The Teachers
Danielle Glucksman – Lead Educator, BBM and Judaica teacher and cooking instructor.
Danielle has been a teacher at Darchei Noam since 2012; she has taught Judaic studies, cooking and run several of the High Holiday children's programs. Danielle works with youth at risk in the TDSB. Danielle has been involved in the Jewish Community for over 20 years and was the youth director for Darchei Noam when the shul was on Hove Street. Danielle has been a Girl Guide leader for many years and loves the outdoors and camping.
---
Zack Portman – Judaica teacher and woodworking instructor
Zack has been teaching at Darchei Noam since 2015. Since 2018, Zack has been teaching students the craft of woodworking. He has also been helping in the High Holiday youth programming. By day, Zack works as a stone carver for a custom stone manufacturing company. By night, Zack has his own woodworking and Judaica business. He also enjoys winter snow sports and countless hours on the beach... which include long walks. Really excited for an even better second half of the year with grades 3-6
---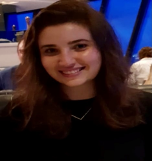 Lindsay Snow – Hebrew Teacher – Darchei Noam grades 4-6 and Leslieville Sk-2
Lindsay is an experienced Jewish educator and Registered Nurse. She has a passion for health, art, music, and fashion. She enjoys staying connected to the Jewish community such as by travelling to Israel and maintaining Jewish family traditions. Lindsay has taught Hebrew for many years both privately and through Jewish schools and is excited to share and learn alongside the Darchei Noam community."
---
Nomi Barancik – Hebrew Teacher Leslieville grades 3-6 and Storyteller for Shabbatot program
Nomi is a bilingual sabra (born in Israel) with years of Hebrew teaching experience.
She loves taking long walks and storytelling. She is creative and energetic. Her main goal is to make learning Hebrew fun.
---
For more information about the School or B'nei Mitzvah programs please email Danielle Glucksman
Wed, 16 June 2021
6 Tammuz 5781
Are you a guest? Welcome!
To attend our Services or Programs, please pre-register here by 2 pm of the preceding business day
Upcoming Programs & Events
---
This week's Torah portion is

Parashat Chukat
Candle Lighting
Havdalah
Motzei Shabbat, Jun 19, 9:53pm
Fast of Tammuz
View Calendar
Subscribe to our Friends of Darchei Noam Mailing List
Wed, 16 June 2021 6 Tammuz 5781